LAND ROVER RANGE ROVER LWB ** PROJECT**
RESERVED
Year : 1994
Mileage : 162303
Engine : 8 Cyl, 4.2L
Transmission : Auto
Exterior : Black
Interior : Black
Body Style : SUV
Vin : SALHC1340RA641664
Details :
Call us or Email us with any questions.
We are always open to BuyItNow offers.
732-582-9038 ... info@ROVERCLASSIC.COM
1994 LAND ROVER RANGE ROVER LWB ** PROJECT** ... 162,303 Original Miles
Vin : SALHC1340RA641664
Engine : 8 Cyl, 4.2L
Transmission : Auto
Exterior : Black
Interior : Black
Body Style : SUV
This SUV is a low mileage example that is a prime candidate for restoration
and it is mostly complete. NO RUST ANYWHERE! This vehicle does not start, the issue is unknown. This vehicle will be sold AS-IS and WHERE-IS, what you see is what you will get. This vehicle will have to be towed from our premises.

We offer our customers LOW COST DELIVERY
Please see the map for the approximate delivery charge, Please contact us for the exact delivery charge.
Delivery is not done by us, it is done by Fully insured Trucking companies that we subcontract to deliver our cars.
Click on the map for approximate delivery rate
https://www.roverclassicpictures.com/90/Stuff_for_Ebay/2.jpg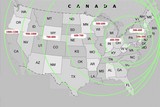 Please be aware that we charge $149.00 Documentation Fee. This fee will be added to final cost to cover our expense for paperwork and mailing.
Pictures
:
( Click pictures to view full size )