AM GENERAL HUMMER H1 Supercharged
SOLD
Sold To : VA
Year : 1994
Mileage : 97991
Engine : 8 Cyl, 6.5L Diesel
Transmission : Auto
Exterior : Red
Interior : Gray
Body Style : Utility
Vin : 137YA8436RE998412
Details :
Call us or Email us with any questions.
We are always open to BuyItNow offers.
732-582-9038 ... info@ROVERCLASSIC.COM


1994 AM GENERAL HUMMER H1 Supercharged
97,991 Original Miles

Vin : 137YA8436RE998412
Engine : 8 Cyl, 6.5L Diesel Supercharged
Transmission : Auto
Exterior : Red
Interior : Gray
Body Style : Utility



This Supercharged Behemoth also called The
Red Rhino is 1 of only 718 produced in 1994 and one of only 47 H-1's produced with Gray interior! They call this H-1 "The Red Rhino" due to its full exterior Rhino Liner coating. This Rhino coating not only looks cool but is extremely durable, protects from corrosion and is maintenance free. The seats have recently been recovered in a Leather & Alcantara suede finish with diamond cross stitching. 1 of only 718 produced in 1994 including powerful changes for this model year. While the 1992 & 1993 models had a 6. 2L engine and 3 speed transmission. The 1994 version came standard with a 6. 5L engine with an additional 20hp and 40lb ft of torque along with a 4 speed transmission. The drivetrain changes were probably the most significant. The 4 speed transmission will allow the Hummer to cruise as much lower RPM reducing the noise level at highway speed considerably. Top speed in 1994 went from 73mph to over 83mph! Also – there are so many custom upgrades here that are pure luxury in this H1. Luxury features such as power windows. power door locks. power mirrors and cruise control. Standard Options That Make the 1994 Hummer Special from Earlier Models: More powerful 6. 5L engine, new serpentine belt system, 4 speed electronic transmission allows for higher top speeds and quieter operation, new shift control, batter moved from under passenger seat to under hood allowing seat adjustments, larger diameter halfshafts for increased strength and durability, fresh air intake for cabin raised, B beam behind front seat in earlier models is removed, deluxe custom cloth interior option, gray interior marks 1 of on 47 custom 1994's built, new electronic control HVAC. Auxiliary rear air and heat options. combination 1-piece runflat/beadlock, added catalyst and repositioned muffler behind rear bumper, wagon cargo, standard power door locks, electric speedometer, new fuel tank design, new glove box with cup holders and full door option
.
The 6.5-liter diesel motor was upgraded with a Whipple Supercharger kit. Research shows this is the best supercharger add-on for the H1 and a far better option than turbo.
Call us or Email us with any questions.
We are always open to BuyItNow offers.
732-582-9038 ... info@ROVERCLASSIC.COM

We offer our customers LOW COST DELIVERY
Please see the map for the approximate delivery charge, Please contact us for the exact delivery charge.
Delivery is not done by us, it is done by Fully insured Trucking companies that we subcontract to deliver our cars.
Click on the map for approximate delivery rate
https://www.roverclassicpictures.com/90/Stuff_for_Ebay/2.jpg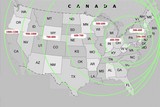 Please be aware that we charge $149.00 Documentation Fee. This fee will be added to final cost to cover our expense for paperwork and mailing.
Pictures
:
( Click pictures to view full size )